Getting injured can be scary. Getting injured at work can be even more distressing, with employees worried not just about their health but also job security and future employment.
In this webinar, we did a deep dive into improving return-to-work outcomes for your organisation with Matthew Green, leading health practitioner, author and founder of BodyGuide.

Matt arms safety professionals with the tools they need to fully support the physical and secondary effects of workplace injuries. He also explores exactly what safety professionals need to confidently deliver best practice support, helping employees while also reducing workers' compensation costs.
On the way, you'll also learn some relevant (& simple) neuroscience behind how we react to pain and injury, that may just help you or a loved one experiencing discomfort.
Happy viewing!
Presentation Slides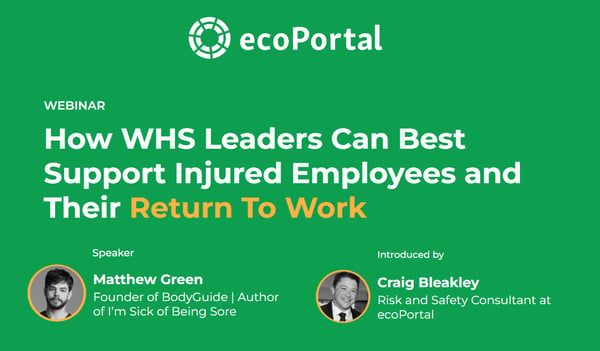 You can request the presentation slides by reaching out to Matthew on LinkedIn here
You can also sign up for his BodyGuide newsletter
Register For Our Next Webinar