ecoPortal's ISO 45001 Gap Analysis tool takes you step by step through the new standard. You can quickly see how aligned you are and what actions you need to take to achieve compliance.
Sections covered:
Context
Leadership
Planning
Support
Operation
Performance
Improvement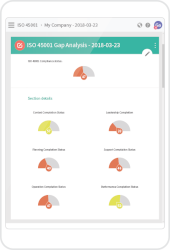 Understand the new framework
Once logged in, you'll be taken step by step through the different requirements of the ISO 45001 framework. After completing the gap analysis, a report will generated so you can easily see how aligned to the standard your company is and if any additional actions are needed to gain compliance.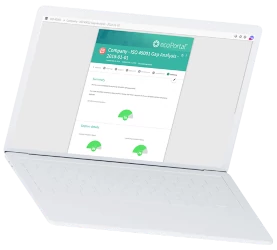 Get access to ecoPortal
This confidential gap analysis tool is delivered to you on ecoPortal's H&S platform. You can complete it in much the same way that our clients conduct internal audits. You'll also be given access to check out a couple of our key H&S registers such as 'Events' and 'Risk'.