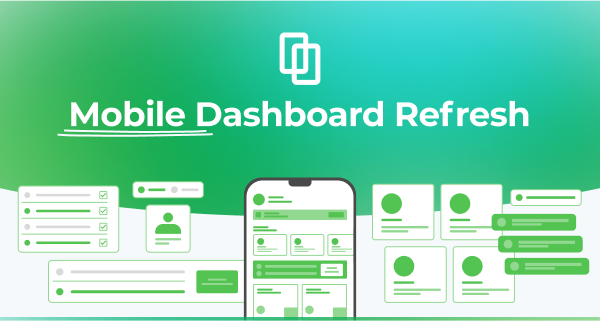 Driving everyday engagement in health, safety & and risk from frontline workers is at the heart of our mobile app. We take an innovative approach to providing a seamless user experience that makes it easier for people to participate in H&S efficiently, from anywhere!

The dashboard, or home screen, is the first touch point a person has with our mobile app. We heard from customers that there was an opportunity to make it more functional, user-friendly, and in turn, engaging - inspiring this design refresh.


Meet your new mobile dashboard 👋
Designed on a 'snapshot and launchpad' concept, the new dashboard lets you see the status of your H&S information and to-dos at a glance and easily launch into other areas of the app.
The information on the dashboard is dynamic, meaning that it updates in real-time making for a fresh and highly functional home base that will enhance your mobile experience.


---
Tasks and actions*



Tasks and actions* have been brought to the fore! You'll find:
An overview of the different tasks you need to undertake.




A snapshot view of your open and overdue actions*

The ability to create new standalone actions via a permanent New Action button*


Quick links to filtered views, or directly to the task/action* itself.
Quick create entries and actions*
It's even easier to create new entries and actions*, with the introduction of:
A quick create widget, providing one tap access to your most recently used templates

A floating 'New Entry' button on the 'Home' and 'Entries' screens, which you can use to access all the templates available to you on mobile

A floating 'New Action' button can also be found on the 'To-dos' screen*.



The mini-map
Finally, just like a Google map helps you navigate the world around you, our new mini-map widget provides greater visibility of H&S information in relation to your physical location.
*Actions functionality is only available to customers using the next-generation Actions Module.


---

Getting started with the new dashboard
In-app messages will be launched at the same time as the new design goes live to guide people through the new features and layout of the dashboard.
Then it's over to you and your teams to give it a whirl.


---

Our commitment to continuous improvement
User feedback drives continuous improvement and is mission-critical to us being an app that people love to use. That's why we're taking a proactive approach to capture the views of a broad set of mobile users. A feedback widget will be presented to those who choose to opt out of the new dashboard, as well as those who meet certain usage criteria.

Let your voice be heard anytime via our in-app Send Feedback function, or pass it on to your ecoPortal Customer Success Manager directly.