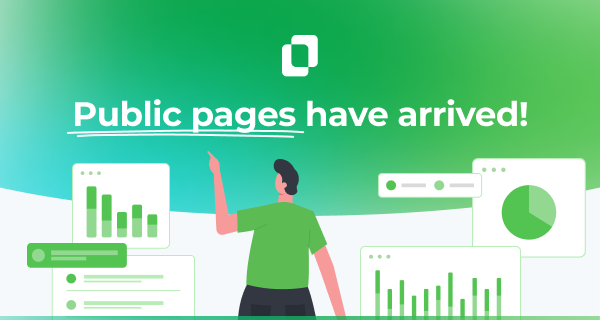 Ever needed to share information in ecoPortal with someone who doesn't have a login? Now you can keep all your stakeholders informed in a managed way with public pages.
Share up-to-date information with those who need it
Public pages allow you to provide quick access to information in ecoPortal to anyone; bypassing the need to set those people up as users (or update their user permissions).

There are countless ways you can put public pages to good use, such as sharing timely reports with board members, audit findings with consultants or policy, procedure and on-site hazard information with visitors.

Let's further explore how public pages work, what measures are in place to keep your data safe and how you can get started.
Public pages explained
Public pages are ecoPortal pages that users can generate Public Links for.
Public links are unique URLs that can be shared with anyone to provide them with view-only, conditional access to a specific public page.
In just a few clicks, users can generate a public link to a public page and rules can be applied to maintain control over what can be accessed and when.
Those with a public link get access to everything they need, including all stages of a page relevant to them. They can view and/or download any attached files, like photos or documents - so they get the full picture without the need to request more information.
There's no need to generate a new link when an update is made, as unlike a print out, the data on a public page is always up-to-date and will reflect exactly what is saved in ecoPortal at the time of viewing.
Access controls keep your data safe
While certain situations warrant the need for public pages, data privacy is still an important consideration. That's why we've built in a number of controls that allow you to manage how people access your information.

| | |
| --- | --- |
| 1 | Public pages can not be found using search engines and are only accessible via unique public links. |
| 2 | Set an expiry date and time on public links or limit them to being viewed a set number of times, so public access can be temporary rather than permanent. |
| 3 | Choose whether all started stages of the page are shared or only a specific stage. For example, you may wish to keep details on the report stage private and therefore only share the investigation stage via the public link. |
| 4 | It's not possible to navigate to other ecoPortal pages from a public page, even if the public page shows a link to another page. |
| 5 | With no limit on the number of public links that can be generated for any one page, you can set different access controls for different stakeholders as appropriate. |
| 6 | Pages in ecoPortal are private by default. The ability to create public pages is set at the register level and this is done in consultation with each ecoPortal customer - so you maintain control over how information in ecoPortal is accessed. |
How can I get started?
This feature is now available to all customers. We recommend you first align internally on which registers in ecoPortal you would like to enable public sharing for.

Then contact us or reach out to your Customer Success Manager and we'll arrange for this to be activated for you.