Are all your incidents, near-misses and risks being accurately reported? Is a lack of engagement from stakeholders preventing you from realising meaningful change through your H&S programme?

The reality is, that if the way you capture Health & Safety data is inaccessible or too difficult, then people simply won't do it.

That's where ecoPortal Connect comes in. Our native Mobile App is designed to help overcome obstacles that can stand in the way of active participation from everyone.
Let us explain! We'll also share what's new to ecoPortal's Mobile offering and how you can get up and running.


---



Access at your fingertips, anywhere, anytime, even offline



Health & safety events can happen anywhere. If people are forced to report events at the end of their shift or when they get home after a long day in the field - chances are it won't be a priority, they'll forget or the details will already be a little hazy.
ecoPortal Connect makes it quick and easy to create entries and complete actions and workflows on-the-go from anywhere via any iOS or Android mobile device.
Offline Mode means that critical safety information can be accessed and reports can be submitted with no internet connection. In fact, entire workflows can be closed out or signed off offline. This is a must have for remote workforces with the data syncing back to the system as soon as the person comes back into range.
Ease-of-use keeps staff on task



Reporting systems that do not focus on the people that need to use them are a common enemy of H&S engagement.
Our dedicated services team works alongside customers to set up forms and workflows in intuitive, mobile-friendly formats that facilitate timely and accurate reporting. Smart rules can be applied so the requested information is always relevant to the situation at hand - so no time is wasted.
From the moment a user opens the app, they just one finger tap away from creating a new entry or viewing "my entries" and "my tasks". This simple dashboard enables people to hone into the areas of ecoPortal that matter to them and get back to their primary responsibilities faster.


Reap the benefits of better Health & Safety reporting




With the ability to capture data in real-time, events submitted are highly accurate. They can also be supplemented with detailed information/observations using enrichment tools straight from the mobile device - including:
Voice-to-text;

Geo-location tagging;

Multimedia files (photos, videos, audio and documents).


Unlocking these features via Mobile helps to overcome any literacy barriers, appeases those with a dislike of touch typing with their fingers or thumbs and speeds up the reporting process across the board.
Therefore, ecoPortal Connect not only increases the chances of H&S events being reported in the first place, but also has the ability to improve the quality of that reporting fostering greater safety outcomes for all.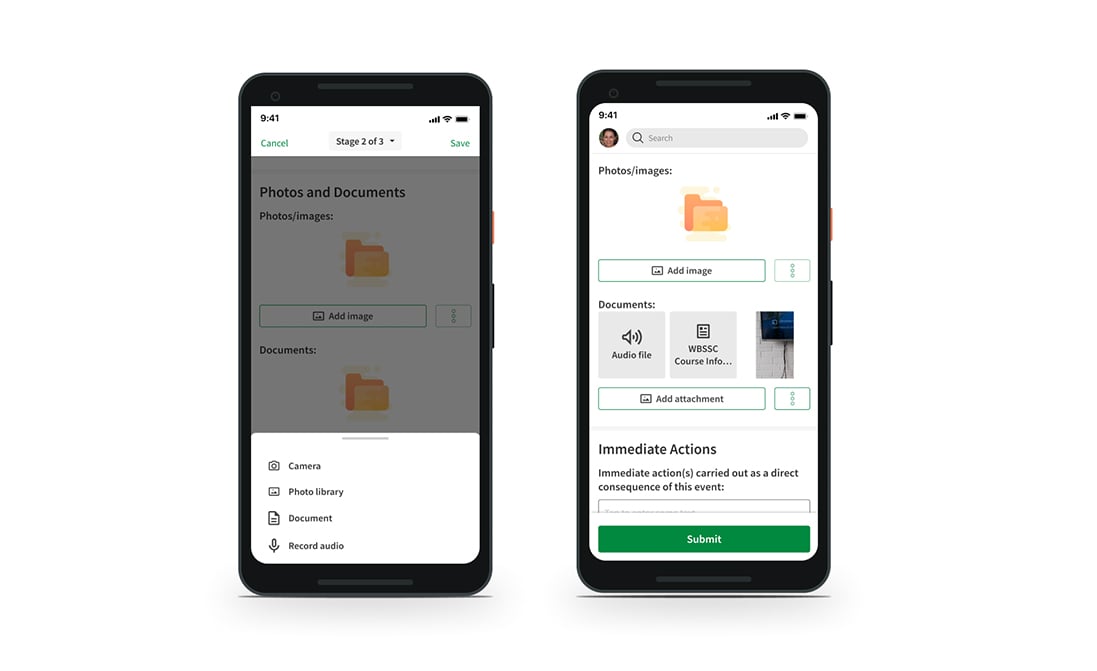 Maximise the value of your ecoPortal investment
We are living in a mobile-first society in which everything, from social media to the more serious things in life like banking, are done from a mobile device. It's what people are used to, it's what they expect and it can be the same for safety.
Accessible and user-friendly, ecoPortal Connect is the perfect accompaniment to the web-app helping to boost staff willingness to engage in safety practices by making it feel less like a chore and ensuring you get maximum value from your ecoPortal investment.


---


What's new to ecoPortal Connect?
We take Mobile seriously! Our in-house Mobile team is focussed on simplifying and optimising the mobile experience for our customers - having made over 25 releases in the last 6 months! Here's a few of the highlights:

Supporting our new Visitor Management Module by enabling those with an ecoPortal account to check in directly from ecoPortal Connect.
Implementing a new dashboard design to make it even easier for people locate the page or action they want to take from the moment they open the App

.

Continual improvements to the user interface and experience and ensuring applicable web-app improvements are mirrored in the App.





Mobile is also at the heart of our latest Module: Broadcast Notifications. This module provides a reliable and effective way to send safety alerts informing people about an emergency or evolving situation via a single coordinated response. Targeted notifications and safety alerts sent direct to ecoPortal App users' mobiles.


---
6 reasons to roll-out our Health and Safety Mobile App:
1. Quick and easy to create entries and complete workflows on-the-go from anywhere, at any time, even offline;

2. Intuitive forms and workflows facilitate timely and accurate H&S reporting;
3. Ease-of-use and smart rules ensure minimal disruption to work productivity;
4. Improved quality of reporting information with data enrichment tools like
voice-to-text, geo-location tagging and multimedia file uploads.

5. Strengthen and improve your emergency response with
Broadcast Notifications;
6. Boost staff engagement and maximise your ecoPortal investment.


---
How can I get started with ecoPortal Connect?
Make ecoPortal even more accessible via our Mobile App and empower everyone in your organisation to contribute to a safer workplace.
Our expert team knows what it takes to roll-out ecoPortal for Mobile successfully and can happily advise you on how to prepare, test and launch the App to the wider organisation. Contact us or reach out to your Customer Success Manager to learn more.