22nd June 2023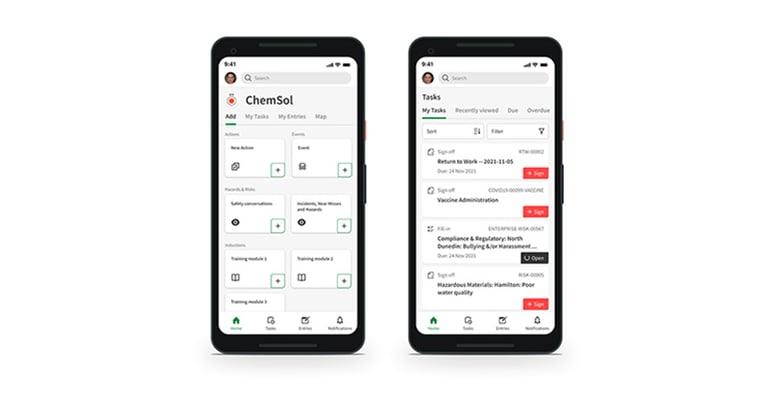 Guess what? Phone addiction doesn't discriminate by age.
That's right. It's not just the younger generation glued to their screens. The influence of the humble cellphone transcends age and education, infiltrating all the nooks and crannies of our lives. People of all ages and stages won't step a foot out of the door without their smart-companion by their side.
Mobile phones have revolutionised how we connect and interact with each other, significantly impacting our social relationships and shaping the course of globalisation. Our phones are so integrated in our daily lives that they're closer to being an extension of ourselves in some ways, with their instant accessibility and frequent use.
There is, however, good news on the horizon. Contrary to popular belief, mobile phones don't have to be concealed in our pockets at work. Instead, they can serve as powerful tools for improving safety culture, helping workers to return home safely each night.
With the continued evolution of WHS software, mobile phones are now being recruited as another device - one that we tend to keep on our person - that can help connect workers to WHS digital ecosystems, and keep people safe.
By harnessing our addictions and tendencies to keep phones firmly by our sides, WHS software providers have developed apps that are part of their software, connecting remote workers, offline workers, and frontline workers together. According to research firm Verdantix, only 25% of organisations globally have rolled out mobile use as part of their WHS programmes.
If your WHS software provider doesn't have a mobile app option, or you're yet to embark on your WHS software journey, read ahead and discover some of the key benefits that a mobile app has to offer.
Better health and safety reporting outcomes:
The first advantage of using a mobile app as part of your WHS software offering, is that workers can enter data about an event on the fly.
The faster a safety leader receives data, the faster they can respond to an unfolding situation on the ground. If a serious incident occurs, the immediacy of the data provided is essential to get the right help to the site as quickly as possible. The sooner safety leaders have data, the more quickly they can respond.
Furthermore, real-time data collection means the high-quality data is collected that's rich in detail. Better data drives better insights and can help the WHS team scope out the risks across the organisation, and drive improvements.
Certainly, filling out incident reports after the work day has finished means valuable information or key details may be left out. With a mobile app, workers can get a report written there and then, and explain the situation carefully.
Some WHS software mobile offerings also have a mixed-media functionality or a voice-to-text option, where video or photos can be uploaded for an incident report, or the software transcribes voice notes to text entries. If employees struggle to communicate effectively via writing, the ability to upload mixed media will help them to share the details in a more effective manner, removing the literacy barrier.
Process automation:
WHS mobile apps can help to speed up systems and processes via automation, creating greater efficiency across the board. If an event repeatedly occurs, apps help to speed up the process using notifications to alert the relevant people. Without the presence of mobile apps, these processes can be time-consuming and lend themselves to human error.
Remember the childhood game, 'Whispers'? You'd sit in a circle and repeat a phrase in a whisper, passing it around the group. Eventually, the final phrase heard and repeated by the last person is a far cry from the original statement.
Communication - especially when it involves numerous groups of people - can be much the same in the adult world. If details about an event are only recorded at the end of the day, or even several days later, valuable information may be lost, drastically slowing down report times and continuing an inefficient process.
Another key feature of mobile WHS apps is an improved user experience that helps to improve the efficiency of any WHS processes. If a worker is having to spend significant periods of time dissecting and translating forms, or spend time training to understand the processes, health and safety becomes increasingly complex - and a strong safety culture is more difficult to implement.
A clean interface that's easy to navigate means most workers can pick up their phone and intuitively understand how to manage the system, and fill out inspections and audits or enter events.
Speeding up the process makes everyone's lives easier.
Offline mode reporting:
High-quality mobile solutions will offer varying levels of offline capabilities. For a comprehensive mobile offering that ensures offline access is available, the vendor must use a native mobile app, not just a web browser app, which does not have offline capabilities.
When employees can enter data offline, this ensures safety is monitored and met in any site or situation. In remote sites or locations far away from the office, laptops aren't always practical, and internet connection isn't always available. Using an app on a device that can still sit in the pocket to record any events becomes useful, and ensures that data is entered there and then - not in 8 hours' time at the end of the day.
Notifications and alerts:
Not only do you want workers to be able to communicate events as they unfold, in real-time, with the office team as quickly as possible, but you also want the ability to share emergency safety information to the teams out in the field as quickly as possible too.
A high-quality mobile offering ensures that feedback loops are more efficient - everyone from managers to frontline workers can use instant alerts and notifications to communicate more effectively.
Data that's accurate to the minute ensures that team members can also respond quickly, requesting any additional information or details in a timely manner. Ultimately, the time it takes to resolve an event is reduced, improving the WHS process for all parties.
Stronger safety culture
Health and safety gets a bad rep, and that's a function of how many systems and rules are enforced. If keeping people safe adds complication to their job, or encroaches on their time and energy, they won't be motivated to comply.
The critical factor is to simplify safety procedures as much as (safely) possible, and ensure that the process of keeping safe becomes a smooth extension of the job they're already doing. Stopping work to fill out a form isn't smooth; the ability to quickly take a photo of what's happening and upload it to the app, is. When the end-user is kept in mind with the app design, the end-users will be more likely to engage and actively participate in their safety.
Not only do WHS mobile apps keep safety smooth and simple, but they also help to foster a proactive safety mindset in workers. Apps ensure that each worker has access to safety information and resources, at any given time. Whether that's the safety guidelines, instructional videos, or hazard identification tools, workers can instantly access a wealth of safety-information from the tap of a finger. Moreover, this accessibility empowers workers to take ownership of their safety, making informed decisions about their tasks and working environment. Knowledge, after all, is power.
So, what should you be looking for?
Here's a checklist of key features to look out for when browsing WHS mobile offerings:
1. Multimedia options to record data
2. Voice-to-text capabilities
3. Advanced, full workflow offline capabilities for native mobile apps
4. Frequent innovation and updates
5. High quality UX design that's easy to use
Final Words:
The integration of mobile apps into workplace safety brings numerous benefits that extend far beyond compliance and data collection. From real-time data entry, to offline capabilities, improved communication, and the development of a stronger safety culture, going mobile continues to be a transformational decision.
When safety is designed with the end user in mind, it becomes easier - and the resulting cultural implications are huge. As organisations continue to embrace technology and digital advancements, mobile apps will continue to play a pivotal role in shaping the future of WHS, taking the wellbeing and protection of workers to new levels.