4th May 2021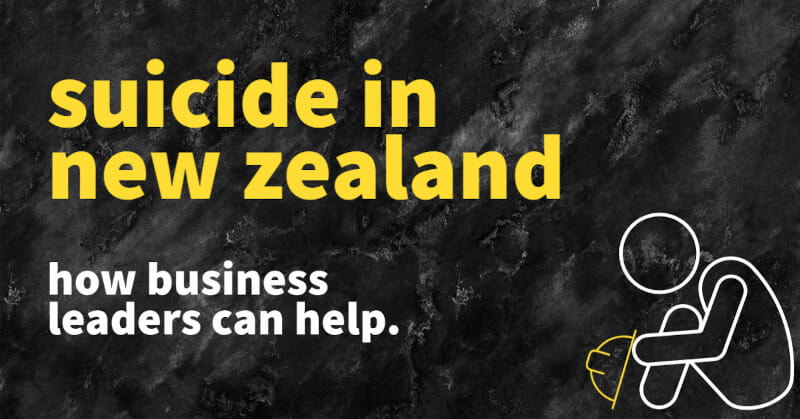 TRIGGER WARNING: MENTIONS OF SUICIDE
From June 2017 to June 2020 two thousand and seven New Zealander's lost their lives to suicide.
New Zealanders are disturbingly familiar with the tragic, far-reaching influence of suicide. It's an open secret that we have the worst rate of youth suicide in the OECD. This is unacceptable, and although ecoPortal continues to explore health, safety and wellbeing, we have fallen short on discussing the elephant in the room; suicide.
Pertaining to one particularly potent example, look at our construction industry. There are significantly higher rates of suicide than any other industry. In three years, one hundred and sixty construction workers have taken their lives. In response, incredible organisations such as Mates in Construction have emerged as shining initiatives to battle these statistics.

However, all industries are prone. There are no exceptions.
As the conversation unfolds nationally, there is an undoubted urgency and exponential heightening of awareness. Work is being done. It has to be done. Collectively, we're understanding that discussing mental welfare isn't enough (à la the benefits of yoga and meditation). We must bravely (and bluntly) examine the root-cause of these tragic statistics, and confront the growing shadow that looms over this nation.
Behind an individual choosing to end their life are a multitude of factors that contribute to a sense of hopelessness. Depression is not the only reason. Traumatic events, chronic illness, isolation, addiction, grief and other mental illnesses, such as bipolar disorder, dissociative identity disorder, and borderline personality disorder, can all contribute to a greater risk of suicide.
If you need a refresher of the warning signs of suicide, have a read of a mental health guide for New Zealand, or symptoms of depression and anxiety.
In this article, we hypothesise options New Zealand safety leaders can take to ameliorate emotional support systems for employees. These are actionable strategies that can be implemented fairly easily and send a clear message: you are not alone.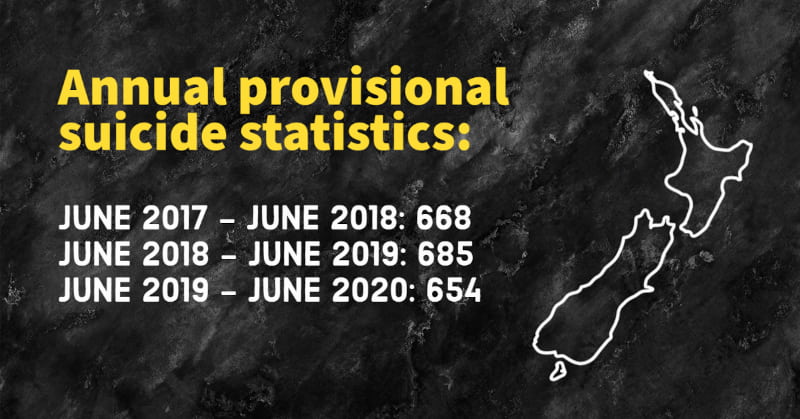 Why New Zealand?
Much of New Zealand's Pakeha history comes from the rugged, problem-solving settlers who endured brutal climate conditions to survive and establish their lives. Much of the Maori population suffered directly (and still do) from the far-reaching impact of colonisation, and unequal opportunities for much of the 20th century.
This unique amalgamation of factors has created a culture that is both humble, yet deeply proud; tough, yet kind; passive-aggressive, yet friendly. It's an elusive dichotomy. This juxtaposition, coupled with the highest rate of teen suicide in the OECD strongly suggests New Zealand can be a tough country to grow up in, and find your feet.
In pockets of New Zealand, especially rural communities, there can be a strong clique-like culture. Researchers from the Victoria University of Wellington have found that newcomers to our country often have difficulty assimilating to our culture, and making those early social connections can be an arduous, and often fruitless process.
Researchers also noted that an overwhelming majority of Kiwi men have subscribed to the notion of 'emotional resilience'; with over half finding it difficult to open up and talk about their feelings. This mentality is influenced by the 'Southern Bloke' stereotype, historically defined by the Pakeha settler who was a rough, stoic man, unwilling to show weakness. Certainly this is clear in the male New Zealanders we revere - Sir Edmund Hilary, Richie McCaw, etc. While this is not inherently a bad thing, these attitudes coupled with any mental struggle or lingering depressive thought, make it difficult for many men to feel truly comfortable speaking up.
Despite this, our country has a lot to be proud of. As an island nation, we've had to rally and get through multiple national disasters. Only recently, we've dealt with the White Island disaster, the Christchurch mosque terrorism attack, and the earthquakes. We must apply that same resilience to shaking up our pride; fighting for it to be okay - somewhat ironically - to be not okay.


WE'VE DEALT WITH THE WHITE ISLAND DISASTER, THE CHRISTCHURCH TERRORISM ATTACK, AND THE EARTHQUAKES. WE MUST APPLY THAT SAME RESILIENCE TO SHAKING UP OUR PRIDE, FIGHTING FOR IT TO BE OKAY - SOMEWHAT IRONICALLY - TO BE NOT OKAY.



So what can Kiwi businesses do to help?
There are many steps we can take. Being aware of how our cultural landscape shapes the conversation around mental health and emotional vulnerability is the first step.
Here are several more:
1. Consider implementing an EAP service
EAP (Employee Assistance Programmes) are employer-funded third-party services that provide assistance to help monitor employee wellbeing in the workplace. They're a great incentive that pays off helping to reduce sick leave, absenteeism, and increase motivation and wellbeing for a happier, productive workforce.
The range of services depends on the programme provider you choose. The key benefit of an EAP is that employees have direct access to confidential professional help when they need it. The business benefits from happier and healthier employees - it's a win-win.
Part of these services can include benefits such as an anonymous weekly mental health tracker that can follow stress levels in your workplace. Collecting this kind of data can help H&S professionals make better informed decisions about company-wide movements, such as knowing the optimal time to host a social drinks based on collective stress levels. This data could also be used to help find relationships between heightened stress levels or poor emotional health in different departments, and causal factors (i.e. new managers, or a different office space might cause a spike in stress).
These services are confidential, so people won't feel any job-related pressure associated with reporting issues. Sometimes people avoid speaking up to save face. They don't want to cause any problems in the workplace. Having a designated third-party to listen helps. Sometimes having visual reminders that explicitly state phone numbers and contacts for confidential help can make all the difference.
2. Build relationships with, and between employees

Feelings of disconnection and isolation is a huge factor in mental illness. Ensuring that the workplace is an arena where friendships are cultivated and relationships are strong, is a critical mental wellbeing factor.

Having good relationships makes everybody's jobs easier. Everyone on the team can trust one another to get their job done, and to keep each other's best interests at heart. Employees can work with greater autonomy when they assume a positive relationship with their manager, who trusts them to do the work. Leaders can also feel more comfortable delivering bad news, or enforcing the rules - the occasionally uncomfortable part of the job.
Humans are, by nature, social creatures, and we need strong interpersonal connections for our mental wellbeing. When times get tough, we turn to our support networks for a shoulder to lean on. As a leader, you're responsible for offering that. Either the support network extends to the workplace, or it doesn't.


HUMANS ARE BY NATURE, SOCIAL CREATURES, AND WE NEED STRONG INTERPERSONAL CONNECTIONS FOR OUR MENTAL WELLBEING. WHEN TIMES GET TOUGH, WE TURN TO OUR SUPPORT NETWORKS FOR A SHOULDER TO LEAN ON.
3. Take interest in employees' financial wellbeing

In the 1% Safer book, Occupational Health Physician, Alex Morales, tells the story of an HR Manager who helped turn accident rates around by examining the socio-economic profiles of employees. His team noticed that a vast number of workers were in debt with different creditors, and as such, were experiencing family psychosocial problems. These external stressors were impacting their productivity at work, as well as accident rates.
Rather than reprimanding their employees for high accident rates, the company decided to try an alternative, holistic approach. They incorporated new practices into their workplace, encouraging workers to seek financial help provided by the company, and to self-identify when their personal emotional burden was particularly high.
The result? A sharp drop in incident rates.
Providing confidential financial advice can be incredibly useful. Many people are financially underprepared for unexpected events, or are already wading through debt. Financial welfare is an overlooked area of mental health, but a great source of stress for so many people. Incorporating a confidential money management advisory source, with guidance for debt management creates a greater quality of life.
This article is not here to shame our country, or point fingers. Rather, we're highlighting critical strategies that can act as a beacon of hope for people feeling hopeless. Kiwis share a strong, collective resolve that desperately requires roots in mental health too.


We are a great nation, full of inspiring stories and a history of punching well above our weight. However, we have an undeniable darker side, that has seen too many New Zealanders lose their lives.
Operating in the health and safety industry means some responsibility lies on all of our shoulders. We have to keep exploring the most effective strategies, and implement powerful initiatives into our workplaces. We have to keep our people safe.