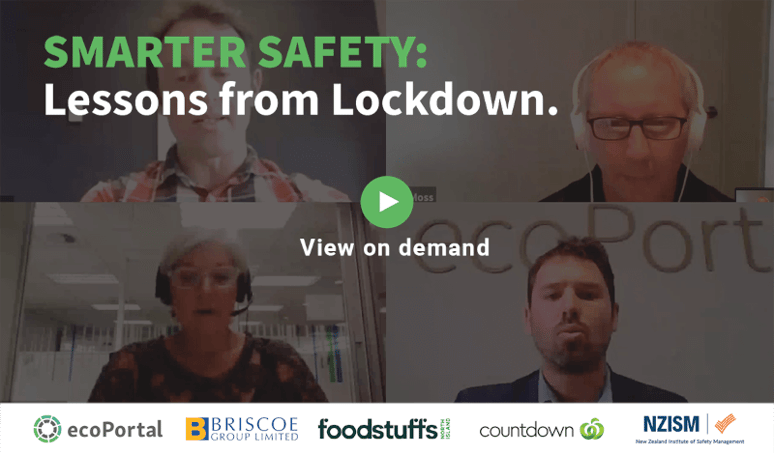 25th June 2020
There are very few industries that COVID-19 hasn't affected. Alongside the health, economic and humanitarian challenges we're predicted to face for years to come, the retail sector is grappling with the biggest interruption to operations it has seen in a very long time.
Supermarkets, pharmacies and other retail businesses deemed as essential have faced their own set of challenges working through levels four and three. Behind the front lines, it was a rapid introduction of controls, new ways of working and new behaviours, underpinned by a focus on continuous improvement. Even now, as we make our way through level two, social distancing and strict hygiene measures continue to disrupt retail operations.
So what can other businesses learn from them to help navigate the new norm? When we asked New Zealand's top retailers that worked through level three and four, they unanimously highlighted the value of leveraging technology.
Whether it be contact tracing, communicating with at-home staff, or maintaining social distancing, technology has played a key part in stopping the spread of the virus. But finding and implementing the right solutions for your business won't always smooth sailing.
Here's what we can learn from the health and safety heads at Foodstuffs, Briscoes and Woolworths NZ.
1. Contactless workplace operations
Social distancing and strict hygiene measures will likely continue to affect customers and staff for some time.
As Ben Sheidow, Head of Health, Safety and Wellbeing for Woolworths NZ, says, "we had a rapid-fire introduction of controls, new ways of working and new behaviours. Now we need to continue to improve these and embed them. Many will stay with us long after we get back to some level of normality."
Payment technologies have been key for reducing the need for physical contact, with many retailers adapting quickly to contactless methods. While this isn't new technology, in a matter of weeks it has become the only way many businesses will accept payment.
It's the same with click-and-collect offerings. This has been an alternative to delivery or in-store collection for years, but COVID-19 has forced more retailers to introduce or dramatically expand this service. While it's ideal for customers to engage with retail businesses in a contactless way, demand has put immense pressure on systems and processes.
Michelle Cooper, Head of Safety and Wellbeing at Foodstuffs, said the company knew from the start that technology would be essential – but it was just as important that the solution didn't add pressure to already congested operations.
"For example, we stood up a virtual queuing system – it was really important [the tech] was streamlined, simple and non-invasive."
2. Keeping track of people
Contact tracing has become a critical part of how retailers do business in level two – and possibly beyond that. And even though there are ways to keep track simply by using a pen and paper, a tech solution will enable your business to move faster in the event of an outbreak – and relieve pressure on staff.
"We knew that stores were really busy and they didn't want to have to fill out pieces of paper every day or manage the related privacy aspects," explains Michelle.
General Manager of HR at Briscoes, Aston Moss, adds that a lot is riding on contact tracing – the health and wellbeing of staff and customers depends on it – so even though it can be tempting to rush into things, don't.
"We've been working through the privacy issues and the operational aspects. We're really mindful not to be pushing so fast that we drop the ball.
"Sales are important in any retail business, but the reality is if you fail, and you're unable to meet your compliance obligations, that's a significant failure."
3. Stay in touch with staff at home
Working from home has fundamentally changed the dynamic between employees and their employer, as well as how teams interact.
With teams at home, Briscoes had to immediately adapt the way they communicated with staff, Aston says, to keep morale up and team members informed. But that didn't mean investing in new technologies, but rather making more use of what they already had.
The company used its existing communications and e-Learning platform to answer frequently asked questions, seek feedback on process changes – and share messages of support and insight.
"It became an important channel for us to share information, but also for our team to let us know what they needed from us," Aston adds.
4. Managing health and safety
The point of technology is to simplify and automate, making processes faster and easier. In the current climate, doing that for health and safety is paramount.
Aston says working with ecoPortal has been a significant part of their response.
"We use it as part of our shift monitoring so we've got one centralised, electronic record right across the country with one consistent template."
ecoPortal, an enterprise risk management platform, is helping Briscoes and Foodstuffs facilitate the COVID-19 health and safety requirements.
"We can check in on each site to see if any issues are emerging and we've been able to catch them quickly and seamlessly," Aston says.
"It's great to have a system or an organisation that's agile and ready to understand our unique circumstances and to be able to shift and morph as the needs are. This is really just the early days. We've got a lot more to do."
Use tech to your advantage – and have a back-up plan
Despite the havoc that COVID-19 has caused, and the speed with which retailers are being required to adjust the way they do business, technology is providing an innovative path forward. The rules of retail have changed, possibly for the long-term, and those businesses that can, are rising to the challenge in a bid to emerge from the chaos.
Both Aston and Michelle encourage those businesses reopening their doors in level two, to maximise new and existing technologies to remain compliant with health and safety requirements – but don't run before you can walk.
In the meantime, have a back-up plan. Continue to utilise your standard cleaning procedures, "ramping up" where required, like cleaning and sanitising high-touch areas, social distancing staff and customers and educating people on personal hygiene. Providing work environments that minimise the spread of COVID-19 remains the number one priority.