22rd January 2022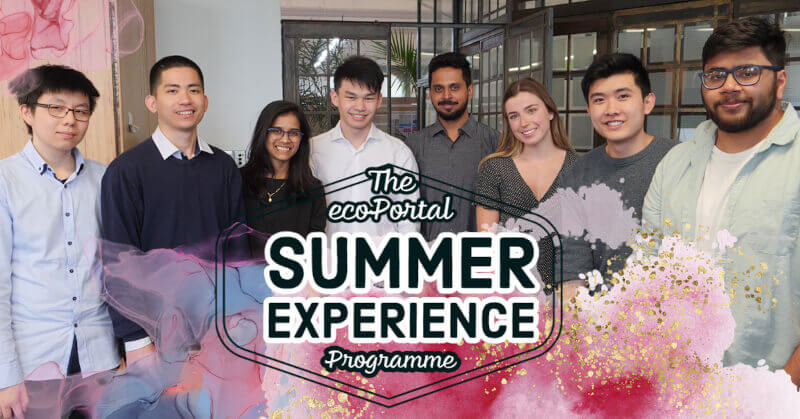 ecoPortal began as a university venture by university students - so it was only natural to continue the relationship with an invigorating internship programme. Our Summer Experience programme is an exciting opportunity for students to get fully stuck in with the ecoPortal family and gain tangible, pragmatic experience in the software industry.
What sets our Summer Experience apart?
Off the bat, our interns are welcomed into the family and undergo a critical onboarding process that introduces them to the ecoPortal way of life. They bring a willingness and hunger to learn, and we offer them a dynamic, innovative working environment that stretches their abilities and develops their skillset.
Rather than some coffee-running, filing-documentation internship, our Summer Experience encourages taking active roles within the office, and contributing solutions and ideas that help solve the challenges of our clients. We welcome their fresh approach and value what each intern brings to the table.
The structure of the Summer Experience is centred around the creation and implementation of one key project for ecoPortal. It's a win-win; our interns get to tackle a specific task from start to finish, which in turn, is implemented and used in real-time for our ecoPortal clients. We ensure that our interns reap the reward of their efforts, seeing their work come into fruition - while obtaining a useful addition to their work portfolio going forward.
Previous Summer Experience projects have included the development of the Health and Safety Assessment on our website. This tool has been instrumental in attracting and engaging potential customers, providing them with immediate, valuable insights, while simultaneously introducing them to the tip of the ecoPortal iceberg, and all that we can do for them.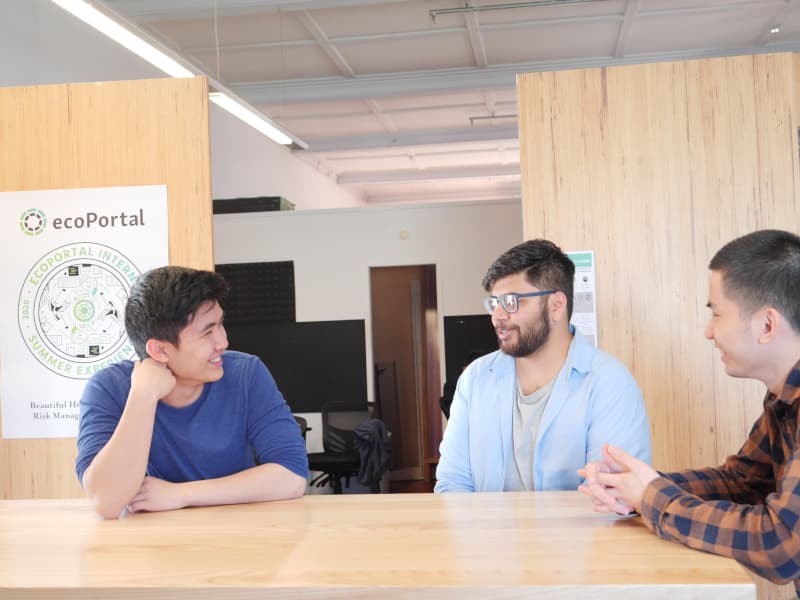 Sky's The Limit:
Our Summer Experience programme is designed as a win-win program for both the intern, and ecoPortal. It's been the perfect jumping platform to develop a fulfilling, long-term employment relationship. Indeed, many past interns have stayed on to join the ecoPortal family full-time, such as Junior System Analyst, Grace Meng, and Implementation Project Manager, Tina Chen.
"The opportunities that came from the Summer Experience programme helped me grow as a software engineer much faster than I expected. It's been a truly rewarding process going from the intern experience to Project Manager", Tina said.
Tina and Grace are just two examples of many; highlighting just how valuable an internship with ecoPortal can be. Simply put, our interns get out what they put in - and the sky is truly the limit.


Class of '20/'21
When we had a chat with this year's intern cohort, we asked them what excites them the most about ecoPortal.
Their answer? Learning, learning, learning.
The overwhelming response was enthusiasm for working in an energetic, engaging environment that will push them and develop them.
"ecoPortal's emphasis on individual initiative, and finding new, creative ways to do things excites me", says Software Engineering intern, Aniket Rai. "It's already changing my perspective on what working within the tech industry is really like on a day-to-day basis."
When asked what drove him to apply for the ecoPortal summer programme, Software Engineering intern Leon Chin laughed, "It was an easy decision. This year in particular has highlighted the discrepancies between proper health and safety procedures and the reality of such procedures in many workplaces. I was really interested in working with an organisation that has a hands-on role in health and safety best practice from an integrated, tech-forward approach."
Implementation intern, Chaithra Kharvi, noted how sustainability was an important company value and product feature of ecoPortal, which aligns with her personal values. "I was inspired by ecoPortal's commitment to sustainable practice and how environmental management is a fundamental element of the ecoPortal product."
(She mentioned how good the donuts were for morning tea on the first Monday, too).
Not only are they stoked to be learning daily, but we also chatted about their enthusiasm at having the opportunity to mingle with the ecoPortal family, playing a spot of pool (a fiercely competitive in-office league) and expanding their horizons around the parameters of what a career in tech could look like.
We're very excited to see what the next three months hold.